Thermoelectric Cooled HgCdTe (MCT)

Typical Applications:
(2µm-9µm)
Thermal Imaging

Laser Detection

Gas Analysis

Railroad Hot Boxes

Line Scanner
Infrared Associates, Inc. offers high quality Thermoelectrically Cooled Photoconductive HgCdTe (MCT)detectors.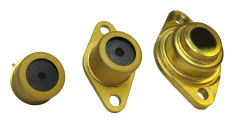 They offer high performance, with ease of operation. Standard detectors are optimized in the 2µm to 5µm wavelength. Extended range detectors operate in the wavelength region beyond 5µm. Optically Enhanced detectors are available with both reflective and refractive optical elements to improve the collection efficiency of these devices. The apparent enhanced responsivity and D*, of theses detectors, relies on the ability of the optical components to refocus energy, which might not normally be incident, on the detector element. These devices are most suitable for applications in which the energy incident is either collimated or diverging. The optically enhanced detectors are, therefore, ideally suited for applications in which fiber optics are employed.
The detectors are mounted on two-stage, three-stage, or four-stage coolers in TO style packages as shown in the tables below. A calibrated thermistor is included in the package for accurate temperature monitoring and/or  temperature control. Soldered windows and welded caps are used to hermetically seal the packages. The packages are backfilled with inert gas for more efficient cooler operation.
They can be supplied with the following accessories: preamplifiers, power supplies, heat sinks and temperature controllers.
Other wavelengths cutoffs are available on a limited basis, contact Infrared Associates, Inc. with your specific requirements.
Standard TE Cooled HgCdTe Detectors
Model Number

Element
Size (mm)

Wave-length Peak λp

(µ

m)

Wavelength Response (20% λ

c

o) (µm)

D*

(λp,10000,1) Jones

Resistance

(Ω)

Time Constant

(µsec)

Oper.
Temp. *

°C

Std.

Pkg.

Std. Window

2 µm to 5 µm

MCT-3.5-TE2-0.25
MCT-3.5-TE2-1.00
0.25 X 0.25
1.00 X 1.00

~3.0

>

3.5

>

1.0E11

100-1500

<

2

-40




2-Stage TO-3 TO-8 TO-66

Sapphire

MCT-4.5-TE2-0.25
MCT-4.5-TE2-1.00
0.25 X 0.25
1.00 X 1.00

~4.0

>

4.5

>

4.0E10
MCT-5-TE2-0.10
MCT-5-TE2-0.25
MCT-5-TE2-0.50
MCT-5-TE2-1.00
0.10 X 0.10
0.25 X 0.25
0.50 X 0.50
1.00 X 1.00

~4.5

>

5.0

>

2.0E10

100-1500

MCT-5-TE2-2.00

2.00 X 2.00

>

1.0E10

MCT-4.5-TE3-0.25
MCT-4.5-TE3-1.00

0.25 X 0.25
1.00 X 1.00

~4.0

>

4.5

>

6.0E10

100-1500

-65




3-Stage TO-3 TO-8 TO-66

MCT-5-TE3-0.10
MCT-5-TE3-0.25
MCT-5-TE3-0.50
MCT-5-TE3-1.00

0.10 X 0.10
0.25 X 0.25
0.50 X 0.50
1.00 X 1.00

~4.5

>

5.0

>

4.0E10

100-1500

MCT-5-TE3-2.00

2.00 X 2.00

>

3.0E10
MCT-5-TE4-0.10
MCT-5-TE4-0.25
MCT-5-TE4-0.50
MCT-5-TE4-1.00
0.10 X 0.10
0.25 X 0.25
0.50 X 0.50
1.00 X 1.00

>

6.0E10

-75




4-Stage TO-3 TO-66

MCT-5-TE4-2.00

2.00 X 2.00

>

4.0E10
* Note: Heat Sink @ 30 Degrees Celsius
Extended Range TE Cooled HgCdTe Detectors
Model Number

Element Size (mm)

Wave-length Peak

λp

(µm)

Wavelength Response (20% λ

c

o) (µm)

D*

(λp,10000,1) Jones

Resistance

(Ω)

Time Constant

(µsec)

Oper.
Temp. *

°C

Std.

Pkg.

Std. Window

> 5 µm

MCT-6-TE3-0.25
MCT-6-TE3-1.00


0.25 X 0.25
1.00 X 1.00

~5.5

>

6.0

>

2.0E10

100-1500

<

2

-65

3-Stage
TO-3 TO-66

AR Coated ZnSe

MCT-6-TE4-0.25
MCT-6-TE4-1.00


0.25 x 0.25
1.00 x 1.00

>

3.0E10

-75

4-Stage
TO-3 TO-66

MCT-7-TE3-0.25
MCT-7-TE3-1.00
0.25 X 0.25
1.00 X 1.00

~6.0

>

7.0

>

1.0E10
-65

3-Stage
TO-3 TO-66
MCT-7-TE4-0.25
MCT-7-TE4-1.00

0.25 X 0.25
1.00 X 1.00


>

1.5E10

-75

4-Stage
TO-3 TO-66

MCT-8-TE3-0.25
MCT-8-TE3-1.00
0.25 X 0.25
1.00 X 1.00

~7.0

>

8.0

>

3.0E9
-65

3-Stage
TO-3 TO-66
MCT-8-TE4-0.25
MCT-8-TE4-1.00
0.25 X 0.25
1.00 X 1.00

>

6.0E9
-75

4-Stage
TO-3 TO-66
MCT-9-TE3-0.25
MCT-9-TE3-1.00
0.25 X 0.25
1.00 X 1.00

~8.0

>

9.0

>

1.5E9
-65

3-Stage
TO-3 TO-66
MCT-9-TE4-0.25
MCT-9-TE4-1.00
0.25 X 0.25
1.00 X 1.00

>

2.0E9
-75

4-Stage
TO-3 TO-66
* Note: Heat Sink @ 30 Degrees Celsius
Optically Enhanced TE Cooled HgCdTe Detectors
Model Number

Element Size (mm)

Wave-length Peak λp

(µ

m)

Wavelength Response (20% λ

c

o) (µ

m)

D*

(λp,10000,1) Jones

Resistance

(Ω)

Time Constant

(µsec)

Oper.
Temp. *

°C

Std.

Pkg.

Std. Window

> 5 µm

OE-MCT-6-TE3-0.25
OE-MCT-6-TE3-1.00
0.25 X 0.25
1.00 X 1.00

~5.5

>

6.0

>

8.0E10

100-1500

<

2

-55

3-Stage TO-3 TO-66

AR Coated ZnSe

OE-MCT-7.5-TE3-0.25
OE-MCT-7.5-TE3-1.00
0.25 X 0.25
1.00 X 1.00

~6.5

>

7.5

>

2.0E10
OE-MCT-8-TE3-0.25
OE-MCT-8-TE3-1.00
0.25 X 0.25
1.00 X 1.00

~7.0

>

8.0

>

8.0E9
OE-MCT-9-TE3-0.25
OE-MCT-9-TE3-1.00
0.25 X 0.25
1.00 X 1.00

~8.0

>

9.0

>

4.0E9
* Note: Heat Sink @ 30 Degrees Celsius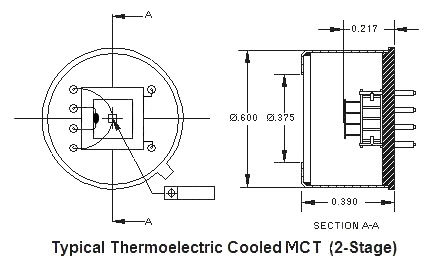 TE COOLED STANDARD PACKAGING
TO-66